Buccal fat removal
Facts on bichectomy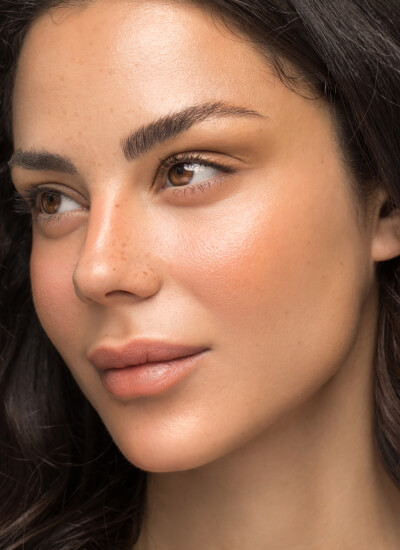 | | |
| --- | --- |
| Treatment duration: | approx. 30-45 minutes |
| Anaesthesia: | Local anaesthetic; sedation if required |
| Stay in clinic: | Outpatient |
| Recovery time: | approx. 5 days |
| Rest from sport: | 10 days |
| Price: | from 2,200 € |
What is a bichectomy?
Most people perceive a slim, V-shaped face as attractive. By contrast, plump, rounded cheeks – often called "chubby cheeks" – can create a child-like appearance and make otherwise slim people look overweight. Bichectomy, also known as buccal fat removal, originated in the USA. It aims to make a person's face slimmer and remove excess fatty tissue. In this procedure, we remove fat from the inside of the cheeks, thereby emphasising and accentuating the cheekbones. The result is a slimmer, younger-looking face.
Who would be a candidate for buccal fat pad removal?
If you feel dissatisfied with your facial proportions and suffer from round cheeks that make your face look chubby, a bichectomy would be a suitable procedure to remove excess fat from your cheeks, contour your face and accentuate your features.
As men and women have different bone and fat structures, we generally remove less fat from our male patients than from our female patients. When performing this procedure on female patients, we are mindful of ensuring we create aesthetic cheekbone contours.
What does a bichectomy involve?
At our practice for plastic and aesthetic surgery in Frankfurt, we perform bichectomy under local anaesthetic and, upon request, with twilight sedation. We make a small incision inside the mouth in order to remove the buccal fat pad. This leaves behind no externally visible scars and allows us to make the individual's face slimmer and more contoured.
Here at Central Aesthetics, we would be happy to hold a one-to-one consultation with you to discuss buccal fat removal at our practice in Frankfurt.
What should I consider after a bichectomy?
The day after buccal fat removal, you should not eat solid foods. This is because a bichectomy involves placing small sutures in your mouth. You will be able to eat solid foods again two days after the procedure. To protect against infection, you should make sure to clean your mouth regularly. You will hardly notice the stitches following the bichectomy and they will fully dissolve on their own within a few days.
Swelling and bruising, which may develop for around 2-3 weeks after the procedure, can be treated with a cold compress. However, patients are presentable and able to attend to their social obligations immediately after a bichectomy.
The final results of the treatment will be visible 3 weeks after the procedure.
What are the risks involved in buccal fat removal?
As a general rule, bichectomy is considered low-risk due to the low incidence of complications. Needless to say, however, the surgeon performing the treatment needs to have a complete understanding of the patient's anatomy. Only then will they be able to achieve satisfying results. If the treatment is performed by a surgeon without the requisite expertise, it can result in tissue trauma and bleeding.
Frequently asked questions about bichectomy
Address

---
Central Aesthetics by Dr. Deb
Mainzer Landstraße 65
60329 Frankfurt am Main
Opening hours

---
| | |
| --- | --- |
| Monday | 8:30am - 6:00pm |
| Tuesday | 8:30am - 6:00pm |
| Wednesday | 8:30am - 6:00pm |
| Thursday | 8:30am - 6:00pm |
| Friday | 8:30am - 6:00pm |

and by appointment