Abdominoplasty
Facts on abdominoplasty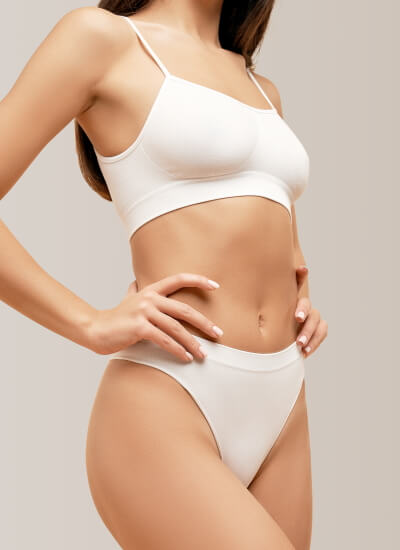 | | |
| --- | --- |
| Treatment methods: | Incision in abdominal area, around the hours |
| Anaesthesia: | General anaesthetica |
| Aftercare: | Supporting garment, bandages, check-ups after 10–12 days, 6 weeks, 6 months and 1 year |
| Removal of sutures: | Absorbable sutures used |
| Presentable: | after 2 - 6 days |
| Costs: | From 7,500 € or from 110 € per month plus anaesthetic, clinic and accommodation costs |
In our society, a firm, toned stomach is very much part of our ideal of beauty. However, many people find it difficult to achieve their wish of a toned core without professional help. There are many reasons why a person's stomach might slacken, such as past pregnancies or simply the natural ageing process. Significant weight loss can also result in excess skin that is unable to form back of its own accord.
We offer our patients abdominoplasty – often referred to as a tummy tuck – as an effective solution to slackened skin. Abdominoplasty is a surgical procedure in which excess skin and fat tissue is removed from the stomach area. The abdominal wall is gently tightened, resulting in a harmonious overall image.
If you have any queries about abdominoplasty, get in touch with us here at Central Aesthetics. Arrange a non-binding appointment for a one-to-one abdominoplasty consultation to assess your individual case.
Frequently asked questions on abdominoplasty
Address

---
Central Aesthetics by Dr. Deb
Mainzer Landstraße 65
60329 Frankfurt am Main
Opening hours

---
| | |
| --- | --- |
| Monday | 8:30am - 6:00pm |
| Tuesday | 8:30am - 6:00pm |
| Wednesday | 8:30am - 6:00pm |
| Thursday | 8:30am - 6:00pm |
| Friday | 8:30am - 6:00pm |

and by appointment