Thread lift
Facts on thread lifting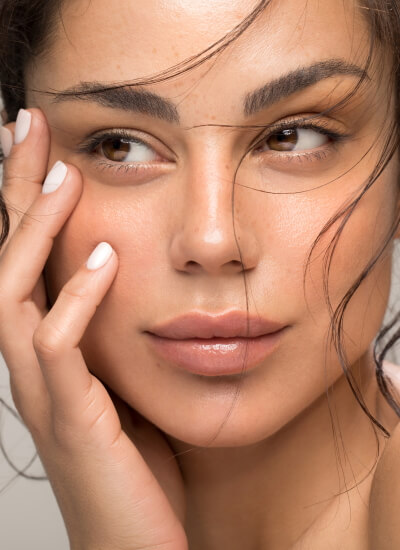 | | |
| --- | --- |
| Areas of application: | Cheeks, temples, lower eyelids, crow's feet, décolleté, chin, upper arms |
| Treatment duration: | 20-60 min |
| Anaesthesia: | none or local anaesthetica |
| Post-treatment: | Check-ups after 1 week, 6 weeks, 1 year |
| Presentable: | Depending on the area and treatment, between 1 hour and 4–5 days |
| Costs: | From 1,450 € |
As the years go by, time inevitably takes its toll on our bodies. Most notably, sensitive facial skin begins to slacken at an early stage and wrinkles start to develop. These signs of ageing are just as troubling for men as they are for women. As a result, many of our patients opt for a wrinkle treatment that returns a youthful freshness and vigour to their face.
Here at Central Aesthetics, we offer a minimally invasive wrinkle treatment in the form of thread lifting. It both tautens the skin and affords it new volume. The result is visibly fresher, younger-looking skin that allows your face to radiate vitality.
Frequently asked questions on thread lifting
What does thread lifting involve?
Before a thread lift procedure, we give each patient a comprehensive consultation. In this discussion, we ask about your specific wishes and work together to determine a corresponding treatment plan. We give the patient detailed information on the procedure and aftercare arrangements. What's more, we make sure to discuss any potential risks with you.
Thread lifting is a relatively painless procedure we can either carry out without anaesthetic or using a numbing cream if you'd prefer. Local anaesthetic and sedation can also be arranged. Our objective is to make the treatment as comfortable as possible for you.
After an anaesthetic has been administered, the practitioner begins to suture the skin. In doing so, they follow a precisely defined pattern in order to achieve the desired tautening effect. In the next step, they apply tape to secure the treated facial areas externally. This serves to limit strong or sudden movements and also prevents the sutures from slipping. The tape stays in place on the skin for several days, though you can leave the practice immediately after the procedure.
Do the sutures need to be removed at a later date?
At Central Aesthetics, we exclusively use absorbable sutures that don't need to be removed: they will break down of their own accord over a few months. However, the effects of the treatment last beyond this period.
Who might thread lifting be suitable for?
Threat lifting is particularly well suited to patients with small amounts of excess skin looking for a minimally invasive wrinkle treatment. Slackened areas of skin are gently lifted upwards and wrinkles are delicately smoothed. However, thread lifting is not a suitable remedy for patients with larger amounts of excess skin. In this case, a facelift might be a more suitable treatment.
We carry out thread lifts as an outpatient procedure which doesn't put patients out of action for long. As a result, thread lifting is an ideal choice for patients who need to be presentable in public soon after treatment so they can attend to their social engagements.
When can I get back to everyday life after threat lifting?
After thread lifting, the treated areas of skin are fixed in place with a plaster that you'll have to wear for a few days. What's more, very small puncture sites or creases in the skin may be visible at first – though these are usually relatively easy to hide. When exactly you want to resume your normal social activities is very much your decision based on how you feel about your appearance.
How long do the results of a thread lift last?
The sutures remain in the skin for several months and are broken down by the body. However, the tautening effect lasts longer: as the sutures are broken down, collagen fibres form and provide additional tightening for the subcutaneous tissue. In general, the results of the treatment last around 18–24 months.
What thread lifting methods are there?
We use various suturing materials in our lifting treatments, as this allows us to achieve different results based on the patient's individual wishes. If the tissue is to be strengthened as the thread dissolves, we use monofilament thread with no further structural features. Other thread types have small barbs or spirals on them, and provide a visible lifting effect. To achieve a maximum lifting effect, we use threads with a so-called 'suspension' function which we apply in either a U-shape or V-shape. These threads are precisely placed to lift tissue as desired.
What thread lift methods would be most suitable for me?
We select an appropriate method based on the findings of an initial examination and the individual patient's wishes. In a consultation meeting, your practitioner will explain the treatment methods open to you in detail. You'll then discuss the best methods to achieve your desired results.
What areas of the body are best suited to thread lifting?
Here at Central Aesthetics, we use thread lifts as an effective treatment for various areas of the body. Thread lifting is particularly suitable for use on the cheeks, neck and décolleté. When used on the cheeks, we can markedly lift and tauten the skin, while thread lifts in the neck area primarily enhance the appearance of the surface of the skin.
Does thread lifting hurt?
Depending on the treatment method used, threat lifting can cause slight discomfort. In order to ensure the treatment is as pleasant as possible for you, we offer our patients various forms of anaesthesia. In general, an anaesthetic cream that numbs the surface of the skin is sufficient. However, if you would prefer, we can also use other forms of anaesthetic or sedation as required.
Patients barely experience any pain after thread lifting procedures – though slight burning, tugging or stinging sensations can occur for a short time depending on the area treated. Common painkillers are effective remedies for such minor complaints.
Will I be able to feel the threads under the skin?
At Central Aesthetics, we use very fine threads that patients usually can't feel. In rare cases, some types of thread can be felt or might pull against the skin from within, which can cause some irritation.
What are the advantages of a thread lift compared to other methods?
In comparison with other skin-tautening methods, thread lifting is a relatively minor, low-risk procedure. The treatment tautens and lifts the skin without requiring any incisions at all: we make fine punctures that heal quickly and leave no scars behind. Patients don't require bed rest after the procedure and are socially presentable within a matter of days.
Is a thread lift an alternative to a facelift?
Thread lifting cannot be compared to a facelift: the two procedures have different objectives and are used in different scenarios. A facelift is a complex surgical procedure in which excess skin is removed and volume is added to the facial tissue. Thread lifting is unable to achieve such profound changes. Indeed, it is perhaps better regarded as a subtle complement to your skincare routine. Despite this, thread lifts can achieve attractive, lasting results – especially when combined with an anti-wrinkle injection treatment.
When will the results of a thread lift become visible?
You will notice an initial lifting effect immediately after the treatment – an effect further enhanced by tiny bruises within the skin. Some threads tend to dissolve rather slowly, only taking full effect after several months. You may notice some slight, temporary puckering of the skin following the procedure, though this will quickly subside of its own accord.
Address

---
Central Aesthetics by Dr. Deb
Mainzer Landstraße 65
60329 Frankfurt am Main
Opening hours

---
| | |
| --- | --- |
| Monday | 8:30am - 6:00pm |
| Tuesday | 8:30am - 6:00pm |
| Wednesday | 8:30am - 6:00pm |
| Thursday | 8:30am - 6:00pm |
| Friday | 8:30am - 6:00pm |

and by appointment