Inverted nipples
Facts on inverted nipples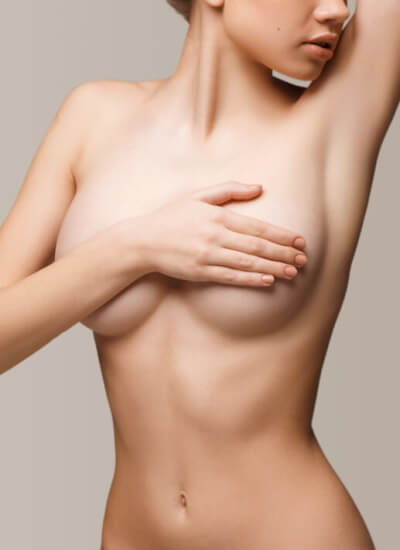 | | |
| --- | --- |
| Treatment methods: | Everting the nipples |
| Treatment duration: | 30-60 min |
| Anaesthesia: | Local anaesthetic |
| Post-treatment: | No pressure on nipples, bandage |
| Removal of sutures: | Absorbable sutures used |
| Presentable: | Immediately |
The nipple is a key part of a shapely, feminine breast. However, some women's nipples do not protrude outwards and are instead retracted into the breast. Many women with so-called 'inverted nipples' perceive them to be major flaws that can severely impact their self-confidence. This situation is also a common cause of issues when it comes to nursing.
In most cases, inverted nipples are a congenital condition: the women affected have shorter mammary ducts, which transport breast milk from the mammary gland to the nipple. However, the surgery to correct inverted nipples is usually a successful remedy for this issue. In the procedure, the nipple is separated from the tissue holding it in the retracted position.
At Central Aesthetics, we offer you a range of treatments to combat inverted nipples. In some circumstances, patients can even retain the ability to breastfeed, meaning that even women hoping to have children and breastfeed could still undergo treatment. In our practice, we would be happy to advise you personally on the inverted nipple correction procedures open to you.
Frequently asked questions on inverted nipples
Address

---
Central Aesthetics by Dr. Deb
Mainzer Landstraße 65
60329 Frankfurt am Main
Opening hours

---
| | |
| --- | --- |
| Monday | 8:30am - 6:00pm |
| Tuesday | 8:30am - 6:00pm |
| Wednesday | 8:30am - 6:00pm |
| Thursday | 8:30am - 6:00pm |
| Friday | 8:30am - 6:00pm |

and by appointment