Breast augmentation
Facts on breast augmentation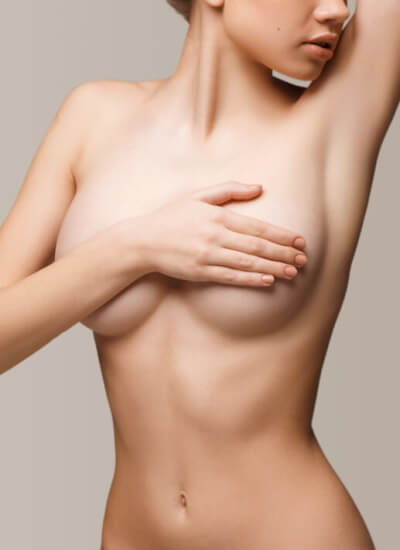 Treatment methods:
Incisions in the crease beneath the breast, in the armpit or around the outer edge of the areola; implant inserted in front of or behind the muscle
Treatment duration:
75-120 min
Anaesthesia:
General anaesthetic
Post-treatment:
No drains required, only adhesive bandages and bra if necessary; check-ups after 10–12 days, then after 6 weeks, 6 months, 1 year
Removal of sutures:
Absorbable sutures used
Presentable:
Next day
Costs:

From 7,800 € or from 115 € per month plus anaesthetic, clinic and accommodation costs (implant)
From 5,700 € or from 84 € per month plus anaesthetic, clinic and accommodation costs (patient's own body fat)
A shapely bust is a symbol of sensuality and femininity. If a woman feels that her bust is too small, her self-esteem can decline rapidly. Many women worry so much about the shape or size of their bust that they restrict their social lives. The feeling of not being perceived as a 'real' woman is often the trigger behind a woman's desire for breast augmentation.
Here at Central Aesthetics, we are privileged to be able help women feel comfortable in their own body again – or, in some cases, for the very first time. To fulfil this aspiration, we individually plan each breast augmentation treatment. We perform breast augmentations using implants or the patient's own body fat, depending on their wishes. With a range of surgical methods at our disposal, we can tailor procedures to accommodate specific wishes and requirements.
Make an appointment with us today for advice on the breast augmentation options open to you. In a one-to-one consultation, we can discuss how best to achieve your desired results and how we can help you to achieve a new sense of self.
Frequently asked questions on breast augmentation
Address

---
Central Aesthetics by Dr. Deb
Mainzer Landstraße 65
60329 Frankfurt am Main
Opening hours

---
| | |
| --- | --- |
| Monday | 8:30am - 6:00pm |
| Tuesday | 8:30am - 6:00pm |
| Wednesday | 8:30am - 6:00pm |
| Thursday | 8:30am - 6:00pm |
| Friday | 8:30am - 6:00pm |

and by appointment