Mini-abdominoplasty
Facts on mini-abdominoplasty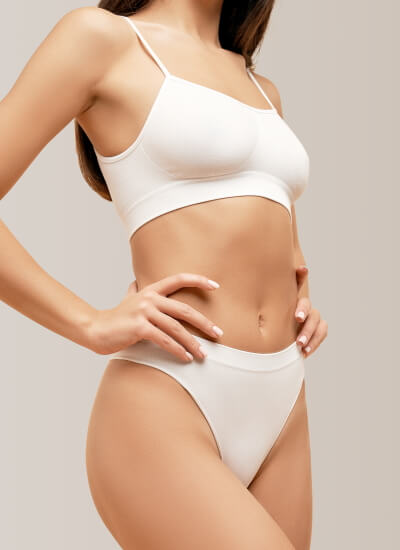 | | |
| --- | --- |
| Treatment methods: | Incision above pubic region |
| Treatment duration: | 60-90 min |
| Anaesthesia: | Local anaesthetic, with sedation if required, or general anaesthetic |
| Aftercare: | Supporting garment, check-ups after 10–12 days, 6 weeks, 6 months and 1 year |
| Removal of sutures: | Absorbable sutures used |
| Presentable: | Next day |
| Costs: | From 5,500 € or from 81 € per month plus anaesthetic, clinic and accommodation costs |
Many of our patients come to us because they want a flat, toned stomach. In our society, a slim torso is part of our ideal of beauty for men and women alike. Unfortunately, many people find that exercise alone isn't enough to achieve the body shape they desire. The stomach often doesn't form back into shape following pregnancy or significant weight loss. Excess skin and stubborn subcutaneous fat can cause a person to feel ill at ease in their own body.
If someone has tried everything and still been unable to achieve the body shape they want, we can perform abdominoplasty to help them realise their goal. For some patients, the problem areas are exclusively below the navel. In such cases, a mini-abdominoplasty is often extensive enough to create an aesthetic silhouette. A gentle, less wide-ranging method to tauten the abdomen, this smaller procedure leaves the navel untouched. What's more, the surgical scope, costs and risks involved are considerably lower than for classic abdominoplasty.
At Central Aesthetics, we're always happy to provide personal consultations on mini-abdominoplasty. In terms of opting for classic or simplified abdominoplasty, we always keep the patient's wishes and requirements at the forefront of our thinking. Of course, we'd be happy to answer any queries in detail, and would be delighted to help you on the journey to your dream figure.
Frequently asked questions on mini-abdominoplasty
Address

---
Central Aesthetics by Dr. Deb
Mainzer Landstraße 65
60329 Frankfurt am Main
Opening hours

---
| | |
| --- | --- |
| Monday | 8:30am - 6:00pm |
| Tuesday | 8:30am - 6:00pm |
| Wednesday | 8:30am - 6:00pm |
| Thursday | 8:30am - 6:00pm |
| Friday | 8:30am - 6:00pm |

and by appointment