Vampire lift
Facts on vampire lifting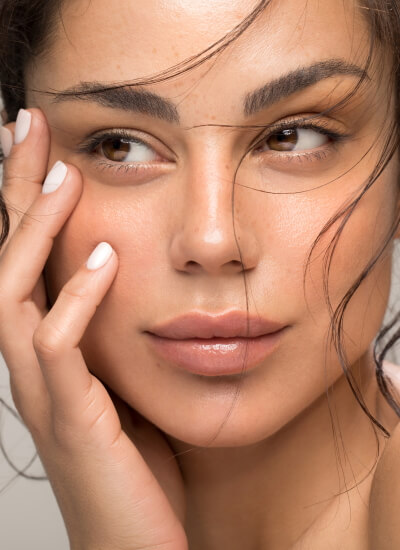 | | |
| --- | --- |
| Areas of application: | Skin tightening and renewal of the face, neck and décolleté |
| Duration of treatment: | About 60 minutes |
| Anaesthesia: | Numbing cream |
| Follow-up treatment: | Avoid hot baths, acidic cosmetics or face masks, no sauna for one week, no solarium or direct sunlight for two weeks |
| Presentable: | Due to possible swelling or redness after 1 - 2 days |
| Costs: | From 450 € |
Over time, the skin ageing process takes its toll on our faces. Skin loses its volume and becomes slack, allowing the first wrinkles to form. Often, facial contours become less well-defined than they once were in younger years. Those affected often suffer from these first signs of ageing, which make them look older than they feel on the inside.
Before the skin ages further and wrinkles become more pronounced, a so-called vampire lift can be a minimally invasive method to reverse the effects of time. Using agents naturally produced by the body, vampire lifting supports the regeneration processes in the skin which the body can no longer perform on its own. The result is tauter, firmer skin as the treatment creates a lasting rejuvenated appearance.
At Central Aesthetics, we use vampire lifting to treat a whole array of skin problems. The treatment smooths small wrinkles in the surface of the skin and fills in deeper wrinkles, returning the volume the skin had lost. We can also use vampire lifting as an effective treatment for stretch marks and scars. What's more, you don't need to worry about any tedious rest periods after treatment – simply look forward to enjoying your refreshed appearance straight away.
Frequently asked questions on Vampire Lifting
Address

---
Central Aesthetics by Dr. Deb
Mainzer Landstraße 65
60329 Frankfurt am Main
Opening hours

---
| | |
| --- | --- |
| Monday | 8:30am - 6:00pm |
| Tuesday | 8:30am - 6:00pm |
| Wednesday | 8:30am - 6:00pm |
| Thursday | 8:30am - 6:00pm |
| Friday | 8:30am - 6:00pm |

and by appointment