Skinboosters in Frankfurt – Revitalise your skin
Facts on Skinboosters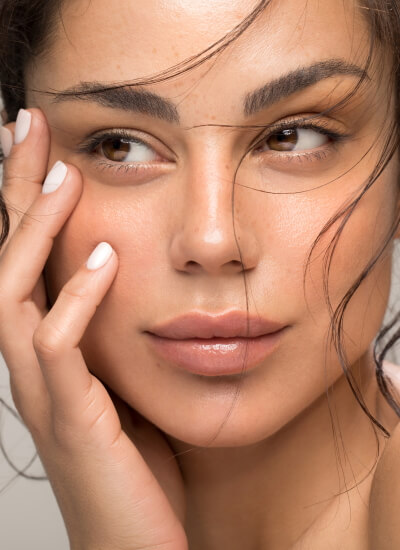 | | |
| --- | --- |
| Areas of application: | Face, neck, hands and décolleté |
| Treatment duration: | 3x 30-minute treatments at intervals of approx. 4 weeks; refresher treatment every 6–12 months |
| Anaesthesia: | None, mild numbing cream used on request |
| Post-treatment: | None; avoid sun exposure and visits to the sauna or solarium for approx. 7–10 days |
| Results: | Gradual improvement in skin quality; final results visible approx. 2 weeks after final treatment |
| Presentable: | Immediately after the treatment |
| Costs: | From 450 € per session; package offer possible |
A fresh appearance radiates health, beauty and vitality. As we grow older, however, our skin loses its tautness and elasticity. Its natural hyaluronic acid content falls and the production of collagen and elastin reduces; wrinkles form, expressions begin to appear tired and the skin's structure loses its taut, youthful appearance. Although this ageing process is entirely normal, many people feel a desire to refresh their appearance and look as young as they feel.
Here at Central Aesthetics in Frankfurt, we can help your skin to regain visible and tangible freshness and elasticity using Restylane SkinboostersTM. The treatment almost acts like a "hydrating mask, working from within". It is suitable for men and women of any age to improve the quality of their skin with results that look entirely natural. SkinboostersTM are a special treatment comprising tender, gently stabilising gels derived from hyaluronic acid. Injected into the skin in tiny quantities across entire areas of the face, neck, hands or décolleté, these gels retain water for several months. This replenishes your skin cells' moisture levels, thereby stimulating the body's inherent collagen and hyaluronic acid production processes.
This innovative approach to deep-acting hydration using Restylane® SkinboostersTM enhances the complexion and results in a taut, smooth and thoroughly radiant skin.
Restylane® SkinboostersTM combine perfectly with other cosmetic and aesthetic treatments – such as wrinkle injections using Botox or hyaluronic acid as well as HydraFacial treatments. Here at beauteous in Frankfurt, our specialist practitioners will be happy to create an individual treatment programme tailored to you. Click the links below to make an appointment:
Frequently asked questions on skin rejuvenation with Skinboosters
Address

---
Central Aesthetics by Dr. Deb
Mainzer Landstraße 65
60329 Frankfurt am Main
Opening hours

---
| | |
| --- | --- |
| Monday | 8:30am - 6:00pm |
| Tuesday | 8:30am - 6:00pm |
| Wednesday | 8:30am - 6:00pm |
| Thursday | 8:30am - 6:00pm |
| Friday | 8:30am - 6:00pm |

and by appointment