Wrinkle treatment with hyaluronic acid
Facts on wrinkle treatment with hyaluronic acid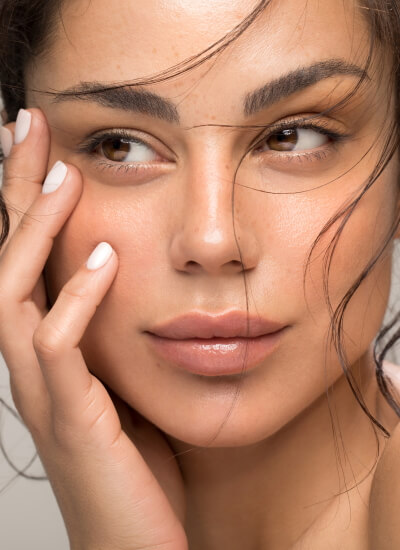 | | |
| --- | --- |
| Areas of application: | Cheeks, lower eyelids, temples, brow, nose, nasolabial folds, corner of the mouth, lips, hands, eye area |
| Treatment duration: | 20-60 min |
| Anaesthesia: | None or numbing cream |
| Post-treatment: | Check-ups after 14 days, 6 months, 1 year |
| Presentable: | Depending on the area, after 1 hour or longer |
| Costs: | From 420 € |
As we grow older, our skin loses its volume and elasticity. As a result, wrinkles form in areas where the skin becomes slack, considerably ageing a person's facial appearance. The effects of ageing can be very troubling for those affected, particularly if such wrinkles appear at a relatively young age. Various factors can further accelerate the ageing process, such as smoking, high levels of solar radiation and genetic predisposition.
Treatments with hyaluronic acid return lost volume in a gentle procedure that is kind to the skin. Hyaluronic acid is a substance that occurs naturally in the skin and regulates the tissue's fluid balance. In wrinkle treatments with hyaluronic acid, we use a targeted procedure to give the skin the moisture it lacks. Afterwards, the face appears refreshed, taut and visibly rejuvenated.
Of course, we would be happy to advise you personally on wrinkle treatments with hyaluronic acid. And, if you're unsure whether a hyaluronic acid wrinkle treatment is suitable for you, why not arrange a non-binding consultation appointment?
Frequently asked questions on wrinkle treatment with hyaluronic acid
Address

---
Central Aesthetics by Dr. Deb
Mainzer Landstraße 65
60329 Frankfurt am Main
Opening hours

---
| | |
| --- | --- |
| Monday | 8:30am - 6:00pm |
| Tuesday | 8:30am - 6:00pm |
| Wednesday | 8:30am - 6:00pm |
| Thursday | 8:30am - 6:00pm |
| Friday | 8:30am - 6:00pm |

and by appointment