Fat-dissolving injections in Frankfurt
Facts on fat-dissolving injections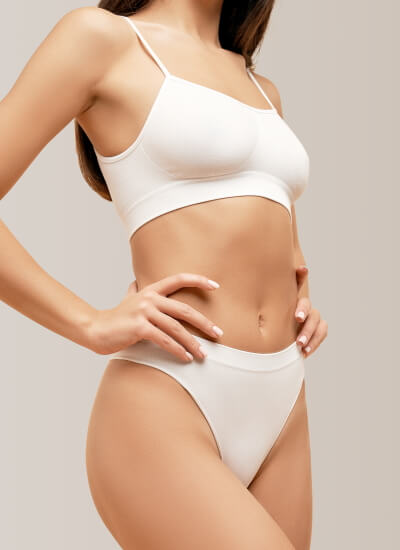 | | |
| --- | --- |
| Application areas: | Love handles, small fat deposits on the abdomen, waist and upper thighs, saddlebags, knees, upper arms, buttocks, hamster cheeks, double chin |
| Treatment duration: | approx. 30 mins |
| Anaesthesia: | A numbing cream or local anaesthetic can be administered on request |
| Post-treatment: | Depending on the patient's individual situation and desired results, several treatments may be necessary at 4 to 6 week intervals |
| Results: | approx. 4 weeks after injections, final results visible after approx. 3 months |
| Presentable: | Immediately after the treatment |
| Costs: | From 350 € |
It's a problem that affects even slim people of normal weight: stubborn fat deposits, which even targeted fitness programmes and a healthy diet are unable to shift, can disrupt an otherwise well-proportioned silhouette. In the facial region, the natural ageing process causes a person's cheeks to sag and the subcutaneous fatty tissue to shift – which can result in so-called hamster cheeks or a double chin.
In the past, only surgical liposuction was available to treat localised fat accumulations such as these. Nowadays, however, a lasting, gentle and straightforward injection treatment is available to reduce these problem areas. A positive side effect of the procedure is the active tautening of surrounding tissues.
No matter whether you're looking for targeted fat reduction in your face or upper thighs, waist or upper arms, at Central Aesthetics in Frankfurt our specialist doctors have years of experience working with the trusted Aqualyx® "fat-dissolving injection". In a series of small injections, the fat-dissolving substances (which are similar to the body's own bile acid) are carefully injected into the fatty build-up to be treated. The fat cells are then gradually broken down before being removed by the body's own lymphatic system. This process is similar to the body's natural fat digestion process and is generally well tolerated by patients.
Do you have any questions about injection lipolysis – the "fat-dissolving injection"? Our doctors in Frankfurt would be happy to advise you.
Frequently asked questions on fat-dissolving injections
Who might "fat-dissolving injections" (injection lipolysis) be suitable for?
Aqualyx® "fat-dissolving injection" treatment is suited to patients who would like to reduce specific small fat deposits, but who are apprehensive about more invasive procedures. In most cases, the treatment is able to markedly reduce localised fat accumulations which do not respond to diets and regular exercise. However, "fat-dissolving injections" are not advisable as a weight loss method for overweight patients.
What are the benefits of "fat-dissolving injections"?
Injection lipolysis is a minimally invasive fat reduction procedure. The treatment can be performed on an outpatient basis – and most patients don't consider it painful. As a rule, patients are able to go about their daily routine as normal immediately after treatment. The substance used, which is similar to bile acid, induces a natural fat reduction process in the tissue. Even stubborn fat deposits disappear quickly and with lasting results, while surrounding tissues are also visibly tautened.
How many "fat-dissolving injections" are required in a course of treatment?
This fundamentally depends on the patient's situation, their desired results and their body's metabolic processes. To achieve a satisfying, aesthetic result, most patients require several sessions at 3 to 4 week intervals.
Which parts of the body can "fat-dissolving injections" be used to treat?
The "fat-dissolving injection" from Aqualyx® is particularly well suited to localised problem areas that don't respond to balanced nutrition and targeted exercise. These include fat accumulations in regions like the waist, knees, abdomen, upper arms, chin and both the inside and outside (saddlebags) of the upper thighs.
When do the results of "fat-dissolving injections" become visible?
The first results of injection lipolysis are visible after around 3 to 4 weeks. It takes approximately 3 months to achieve the final results.
Can you put weight back on in the areas treated after "fat-dissolving injections"?
If the treatment successfully breaks down the problematic fat cells, the aesthetic results in this region are long-lasting. Of course, poor nutrition may cause a person to gain weight again in other parts of their body.
What are the risks and side effects to bear in mind in "fat-dissolving injections"?
After the treatment, patients may experience slight redness of the skin and a feeling of warmth, as well as a slight feeling of pressure and burning in the treated regions – something that feels like sunburn, but under the skin. However, such sensations dissipate on their own within just a few hours or days of the "fat-dissolving injection".
Here at Central Aesthetics in Frankfurt, we exclusively use approved substances from respected manufacturers in all our products and procedures. The active agent in Aqualyx® is a synthetic bile acid that stimulates fat reduction in a manner comparable to the body's natural fat reduction process. This watery substance degrades the fat cells which are then transported away by the body's lymphatic system.
Address

---
Central Aesthetics by Dr. Deb
Mainzer Landstraße 65
60329 Frankfurt am Main
Opening hours

---
| | |
| --- | --- |
| Monday | 8:30am - 6:00pm |
| Tuesday | 8:30am - 6:00pm |
| Wednesday | 8:30am - 6:00pm |
| Thursday | 8:30am - 6:00pm |
| Friday | 8:30am - 6:00pm |

and by appointment