Fat-dissolving injections in Frankfurt
Facts on fat-dissolving injections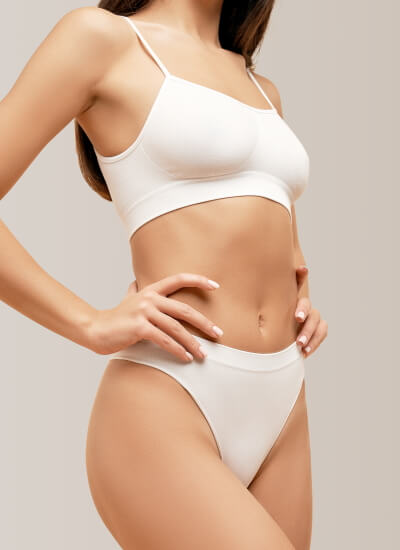 | | |
| --- | --- |
| Application areas: | Love handles, small fat deposits on the abdomen, waist and upper thighs, saddlebags, knees, upper arms, buttocks, hamster cheeks, double chin |
| Treatment duration: | approx. 30 mins |
| Anaesthesia: | A numbing cream or local anaesthetic can be administered on request |
| Post-treatment: | Depending on the patient's individual situation and desired results, several treatments may be necessary at 4 to 6 week intervals |
| Results: | approx. 4 weeks after injections, final results visible after approx. 3 months |
| Presentable: | Immediately after the treatment |
| Costs: | From 350 € |
It's a problem that affects even slim people of normal weight: stubborn fat deposits, which even targeted fitness programmes and a healthy diet are unable to shift, can disrupt an otherwise well-proportioned silhouette. In the facial region, the natural ageing process causes a person's cheeks to sag and the subcutaneous fatty tissue to shift – which can result in so-called hamster cheeks or a double chin.
In the past, only surgical liposuction was available to treat localised fat accumulations such as these. Nowadays, however, a lasting, gentle and straightforward injection treatment is available to reduce these problem areas. A positive side effect of the procedure is the active tautening of surrounding tissues.
No matter whether you're looking for targeted fat reduction in your face or upper thighs, waist or upper arms, at Central Aesthetics in Frankfurt our specialist doctors have years of experience working with the trusted Aqualyx® "fat-dissolving injection". In a series of small injections, the fat-dissolving substances (which are similar to the body's own bile acid) are carefully injected into the fatty build-up to be treated. The fat cells are then gradually broken down before being removed by the body's own lymphatic system. This process is similar to the body's natural fat digestion process and is generally well tolerated by patients.
Do you have any questions about injection lipolysis – the "fat-dissolving injection"? Our doctors in Frankfurt would be happy to advise you.
Frequently asked questions on fat-dissolving injections
Address

---
Central Aesthetics by Dr. Deb
Mainzer Landstraße 65
60329 Frankfurt am Main
Opening hours

---
| | |
| --- | --- |
| Monday | 8:30am - 6:00pm |
| Tuesday | 8:30am - 6:00pm |
| Wednesday | 8:30am - 6:00pm |
| Thursday | 8:30am - 6:00pm |
| Friday | 8:30am - 6:00pm |

and by appointment