Upper arm lift
Facts on upper arm lifting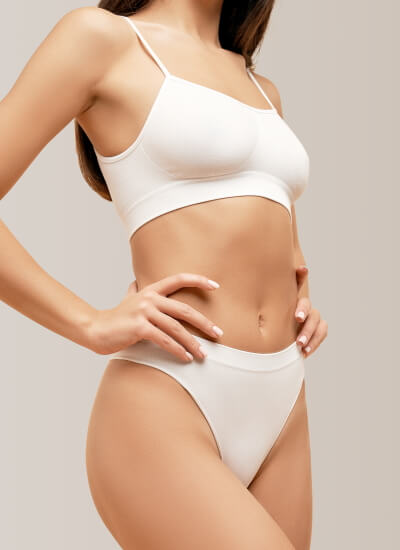 | | |
| --- | --- |
| Treatment methods: | Liposuction directly before surgery to tauten upper arm skin |
| Treatment duration: | 2,5 hours |
| Anaesthesia: | Twilight anaesthetic |
| Aftercare: | Compression for 2 weeks |
| Removal of sutures: | Absorbable sutures used |
| Presentable: | after 2 - 3 days |
| Costs: | From 6,000 € or from 88 € per month plus anaesthetic, clinic and accommodation costs |
Areas of excess skin on the upper arms can be extremely burdensome for those affected. Many people with excess skin suffer particularly badly in summer, as they attempt to hide their upper arms or avoid short-sleeved clothing. This can place considerable restrictions on a person's everyday life.
There are a variety of potential causes of the condition, pejoratively referred to as 'bingo wings'. In many cases, they develop as a result of considerable weight loss. While the fatty tissue forms back into shape, the overstretched skin is unable to do the same. For others, genetic factors play a role – while the natural ageing process also causes skin to become slack over time.
If sport and other non-invasive approaches fail to yield results, an upper arm lift is often the only effective solution. In this surgical procedure, we remove excess skin and also perform liposuction if required. The results of this treatment are toned, defined upper arms that help the patient to feel happy in their own skin again.
At Central Aesthetics, we provide you with personal advice on whether and how an upper arm lift can be used to achieve your desired results. In the planning stage, we place particular emphasis on the individual care we offer our patients, and always put your wishes and requirements first. Get in touch today and arrange a personal, non-binding consultation appointment.
Frequently asked questions on upper arm lifting
Address

---
Central Aesthetics by Dr. Deb
Mainzer Landstraße 65
60329 Frankfurt am Main
Opening hours

---
| | |
| --- | --- |
| Monday | 8:30am - 6:00pm |
| Tuesday | 8:30am - 6:00pm |
| Wednesday | 8:30am - 6:00pm |
| Thursday | 8:30am - 6:00pm |
| Friday | 8:30am - 6:00pm |

and by appointment