Wrinkle treatment with Botox
Facts on wrinkle treatment with Botox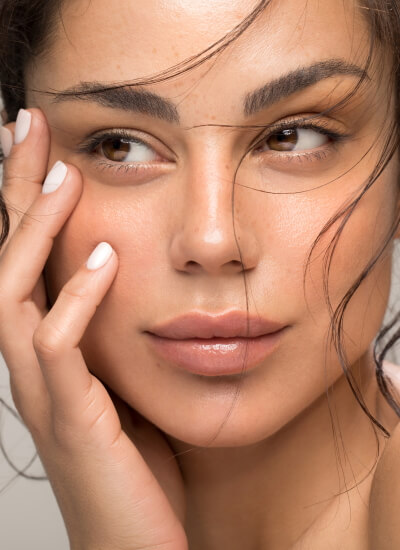 | | |
| --- | --- |
| Areas of application: | Brow, frown lines, eyebrows, crow's feet, chin, armpits, calves… |
| Treatment duration: | 15-30 min |
| Anaesthesia: | None |
| Post-treatment: | Check-up after 14 days |
| Presentable: | After 1 hour |
| Costs: | From 150 € |
Our expressions are a key feature of our presence and our countenance. However, facial wrinkles – often called laugh lines or expression wrinkles – can develop over the years. They are created by the continuous movements of our facial muscles, such as when we laugh, reflect deeply or get angry. These lines are particularly common in parts of the face that we often move or tense.
Both an individual's genetic disposition and other individual factors can play a role in how facial wrinkles develop. The outcome, though, is the same in both cases: as more wrinkles form, the face begins to appear aged and worn-down. However, with the help of Botox, we can successfully treat facial wrinkles. As muscle activity is inhibited, the wrinkle creation process slows and existing expression lines appear visibly smoothed.
Wrinkle treatments with Botox are suitable for anyone hoping to return a fresh, youthful appearance to their face in a gentle procedure. At Central Aesthetics, we'd be happy to help you – and always work to ensure our procedures are gentle and performed professionally.
Frequently asked questions on wrinkle treatment with Botox
Address

---
Central Aesthetics by Dr. Deb
Mainzer Landstraße 65
60329 Frankfurt am Main
Opening hours

---
| | |
| --- | --- |
| Monday | 8:30am - 6:00pm |
| Tuesday | 8:30am - 6:00pm |
| Wednesday | 8:30am - 6:00pm |
| Thursday | 8:30am - 6:00pm |
| Friday | 8:30am - 6:00pm |

and by appointment