Intimate surgery
Facts on intimate surgery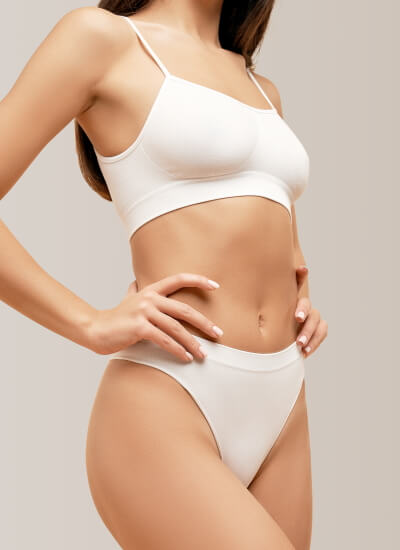 | | |
| --- | --- |
| Treatment methods: | Reduction of labia minora or augmentation of labia majora |
| Treatment duration: | 1-2 hours |
| Anaesthesia: | Local anaesthetic with sedation or general anaesthetic |
| Post-treatment: | Hip baths |
| Removal of sutures: | Absorbable sutures used |
| Presentable: | 1-2 days |
| Costs: | From 2,800 € or from 41 € per month |
In our society, there are certain matters which remain taboo and are rarely discussed – and intimacy is one such topic. It's not uncommon for women to be unhappy with their genitals; they might consider their labia to be too big or too long. Yet very few women feel this is a problem they can discuss with someone else, even if it's impacting on their sex life and sense of well-being. Many women even experience severe pain as a result of their oversized labia, such as when pressure is placed on the genital area when riding a bike.
However, labia correction surgery is an effective method to reduce the size of labia which have grown to be too big or too long. A variety of techniques can be used to remove a section of the labia in an outpatient procedure. What's more, the labia majora can also be augmented if required – such as in the event they don't completely cover the labia minora. The result of this surgery is a symmetrical, well-formed genital area. The procedure's long-lasting results can also enhance or restore a woman's feeling of physical wellness and self-confidence.
At Central Aesthetics, we'd be happy to advise you personally on intimate surgery. In a private atmosphere, we would answer any questions you might have and discuss how best to achieve your desired results. Call us today to arrange a consultation appointment.
Frequently asked questions on intimate surgery
Address

---
Central Aesthetics by Dr. Deb
Mainzer Landstraße 65
60329 Frankfurt am Main
Opening hours

---
| | |
| --- | --- |
| Monday | 8:30am - 6:00pm |
| Tuesday | 8:30am - 6:00pm |
| Wednesday | 8:30am - 6:00pm |
| Thursday | 8:30am - 6:00pm |
| Friday | 8:30am - 6:00pm |

and by appointment