Breast reduction
Facts on breast reduction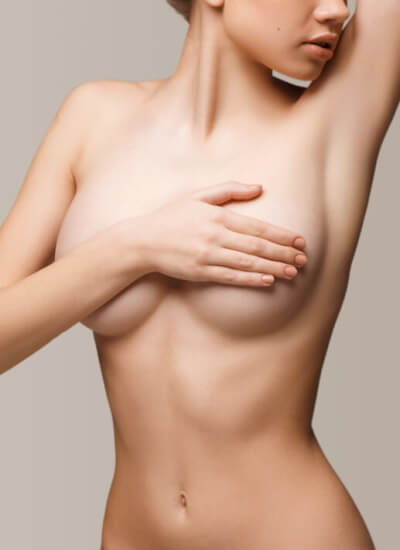 | | |
| --- | --- |
| Treatment methods: | Minimal scarring, with T, J or L-shaped incisions |
| Treatment duration: | 2,5-4 hours |
| Anaesthesia: | General anaesthetica |
| Post-treatment: | No drains required, only adhesive bandages and bra; check-ups after 10–12 days, 6 weeks, 6 months, 1 year |
| Removal of sutures: | Absorbable sutures used |
| Presentable: | Next day |
| Costs: | From 6,800 € or from 100 € per month plus anaesthetic, clinic and accommodation costs |
Women who suffer from oversized breasts carry a burden in two respects. Firstly, on a physical level, a large bust can cause considerable pain and represent a real impediment. Many patients develop severe postural defects over time which, ultimately, cause their entire bodies to share the pain caused by enlarged breasts.
Yet women living with oversized breasts also have to deal with stares and judgement from strangers wherever they go; this causes many to develop strong feelings of shame, feel uncomfortable in their own skin and even shut themselves away. As the restrictions placed on their social life continue to grow, many of these women search for a permanent solution to this problem.
Our surgical breast reduction procedures allow us to give our patients back their self-confidence, improve their health and enhance their quality of life. Breast reduction is a lasting way to reduce breast size both visibly and tangibly. For our patients, the decision to undergo a breast reduction takes a load off in the truest sense of the word – ultimately, they will be able to live the rest of their lives free of the physical and emotional burdens of an oversized bust.
Here at Central Aesthetics, we're always happy to help women find the perfect treatment method for their requirements. We would also be happy to arrange an in-depth one-to-one breast reduction consultation on request. Simply give us a call to arrange a non-binding consultation appointment at our practice.
Frequently asked questions on breast reduction
Address

---
Central Aesthetics by Dr. Deb
Mainzer Landstraße 65
60329 Frankfurt am Main
Opening hours

---
| | |
| --- | --- |
| Monday | 8:30am - 6:00pm |
| Tuesday | 8:30am - 6:00pm |
| Wednesday | 8:30am - 6:00pm |
| Thursday | 8:30am - 6:00pm |
| Friday | 8:30am - 6:00pm |

and by appointment