Breast lift
Facts on breast lifting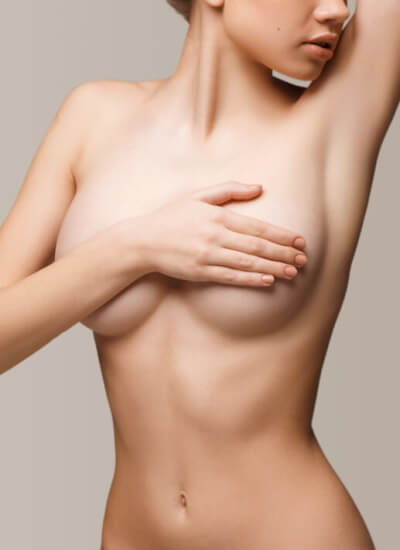 Treatment methods:
Minimal scarring, with T, J or L-shaped incisions
Treatment duration:
from 3 hours
Anaesthesia:
General anaesthetica
Post-treatment:
No drains required, only adhesive bandages and bra; check-ups after 10–12 days, 6 weeks, 6 months, 1 year
Removal of sutures:
Absorbable sutures used
Presentable:
Next day
Costs:

Breast lift: from 8.300€* or 112€* per month
Breast lift with implant: from 9.100€* or 133€* im Monat
Breast lift with implant replacement: from 9.100€* or 133€* im Monat
Breast lift with reduction: from 8.500€* or 125€* im Monat
*plus anaesthetic, clinic and accommodation costs
As the years go by, the female bust undergoes countless changes. Pregnancy and significant weight chances can cause tissues to become slack over time, which can result in a drooping breast that is often deeply troubling for the woman in question. Genetic reasons can also cause the bust to appear unappealing and less femininely shaped.
Many women suffer greatly as a result of drooping breasts: they feel as though they have lost their femininity. Exercise also rarely resolves the situation. Slackened glandular tissue can no longer be tautened by physical activities alone, and it's rare for excess skin to form back into shape on its own – meaning that, in such cases, breast lifting is often the only effective solution.
In surgical breast lifting, we remove excess skin and shift the drooping tissue upwards to restore an attractive, feminine shape to the bust. The procedure creates a harmonic body silhouette that radiates femininity and helps the patient to regain their self-esteem. Here at Central Aesthetics, we would be happy to consult you personally on how you can achieve your desired results through professional breast lifting.
Frequently asked questions on breast lifting
Address

---
Central Aesthetics by Dr. Deb
Mainzer Landstraße 65
60329 Frankfurt am Main
Opening hours

---
| | |
| --- | --- |
| Monday | 8:30am - 6:00pm |
| Tuesday | 8:30am - 6:00pm |
| Wednesday | 8:30am - 6:00pm |
| Thursday | 8:30am - 6:00pm |
| Friday | 8:30am - 6:00pm |

and by appointment