Microdermabrasion
Facts on microdermabrasion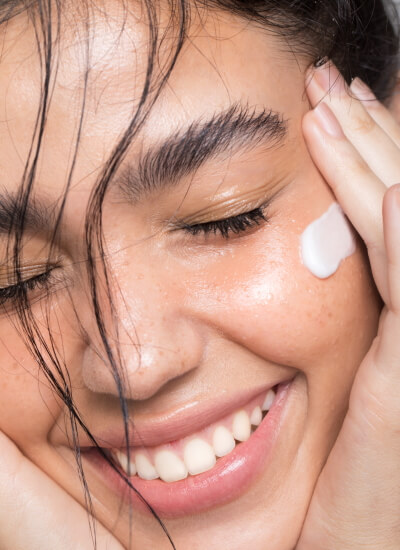 | | |
| --- | --- |
| Areas of application: | Hyperpigmentation, acne scars, cornifications, large pores, wrinkles, stretch marks |
| Duration of treatment: | About 60 minutes |
| Anaesthesia: | None |
| Follow-up treatment: | Avoid direct sunlight, high UV protection, no sauna and swimming for 2 days; no solarium for about 14 days |
| Presentable: | Immediately |
| Costs: | From 120 euros |
Over the course of our lives, the structure of our facial skin changes. As time goes by, the first wrinkles form, impurities creep in and scars may be left behind. Many people with small facial imperfections like these find them very troubling – and even cosmetics can't effectively hide every skin condition and blemish. However, modern aesthetic medicine has developed a variety of highly effective solutions to combat blemished, large-pored skin.
Microdermabrasion allows us to treat a whole range of skin conditions, achieving lasting results while being kind to the skin. Microdermabrasion is a skin-peeling method in which the uppermost layer of skin is carefully removed. In this procedure, we remedy any bumpiness and purposefully stimulate skin regeneration. What's more, following the treatment the skin is more receptive to active agents and can be intensively nourished with skincare products.
At Central Aesthetics, we primarily use microdermabrasion to treat mild cases of hyperpigmentation, acne scarring and various other skin problems. However, this procedure also visibly improves the complexion in general. Microdermabrasion also improves the skin's uptake of active agents and is an ideal preparation for other treatments aimed at smoothing and improving the appearance of lines and wrinkles.
Get in touch by phone or using our contact form for more information on microdermabrasion. We would be happy to arrange a one-to-one consultation appointment for you in our practice.
Frequently asked questions on microdermabrasion
Address

---
Central Aesthetics by Dr. Deb
Mainzer Landstraße 65
60329 Frankfurt am Main
Opening hours

---
| | |
| --- | --- |
| Monday | 8:30am - 6:00pm |
| Tuesday | 8:30am - 6:00pm |
| Wednesday | 8:30am - 6:00pm |
| Thursday | 8:30am - 6:00pm |
| Friday | 8:30am - 6:00pm |

and by appointment